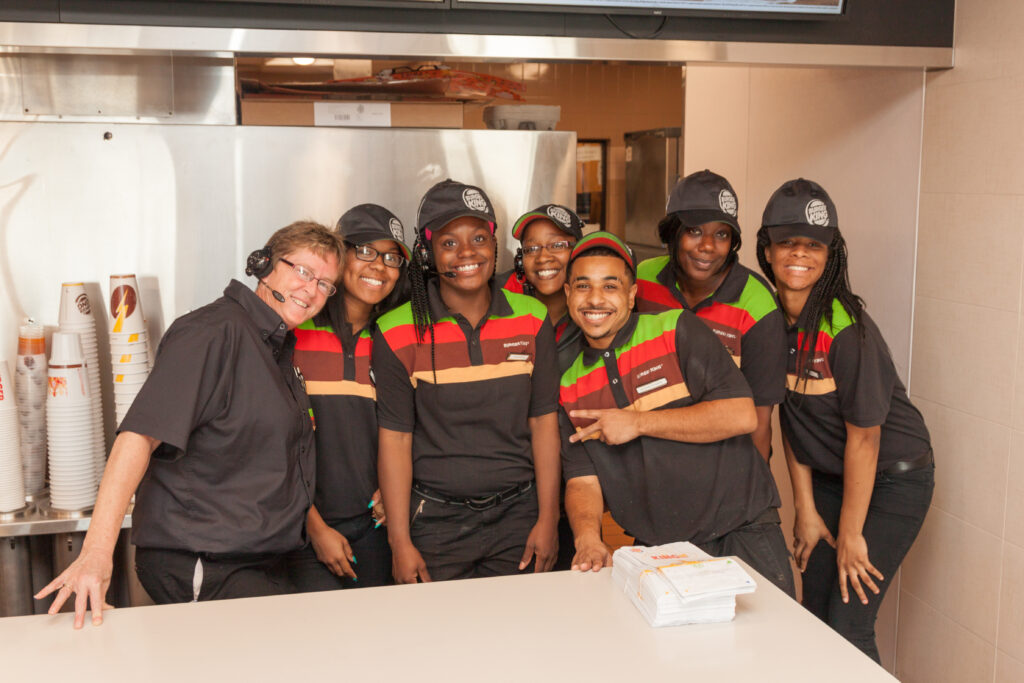 We are very proud of our hard-working people – managers, hourly employees, office staff – whatever they do. They fulfill our mission every single day. They've earned numerous awards over the years for our company and the Burger King brand.
Awards for operations excellence
Honors for contributions to the brand
Top scores in health inspections and safety inspections
Community recognition for employee-supported activities such as toy drives, fund-raising events for nonprofit organizations, volunteerism, excellence in educational programs, and recognition for achievements in sports, music, art competitions and more
We at Bennett Management Corp. are proud of what we give back to the communities in which we operate our restaurants
What Do Our Managers Say About Working At Bennett Management?
Family Oriented Company
Best District Managers Ever!
Owner & Top Management Team care about us
The general feeling of family. I care for my whole team. My district manager is always available to us. Wendy is AMAZING! I can call any store to borrow resources and we all try to help each other out.
I feel supported and surrounded by good teammates at every level
I love having the opportunity to share opportunities with others for growth and development. I love having a job where I can positively effect another person just by being friendly and offering great service with a smile.
People Pleasing People culture
Customer Comments
"I visit the Toledo location on Front St. and I consistently have great, kind, courteous service from the staff here. Whether it's 6 AM or midnight, the staff displays great customer service skills and makes sure I enjoy my short visit there- something that is difficult to find in restaurants today. Sometimes when I come here I'm exhausted or irritated from my day, and I always leave the drive thru in a better mood. I know it seems silly to have a fast food restaurant turn your day around, but it really means a lot to not feel like an inconvenience to the staff here. Special shout out to the guy on the morning shift working the last window that is always so chipper and reminds me that I DO want jam, and the guy on late nights that listens to his jazz who is so polite and patient. You guys deserve a big shout out. Thanks 🙂 " – Madeline V.
"Thank you to the drive-thru dude and the manager for humoring me and my crazy sandwich. I didn't catch her name, but the manager was nice and really made me smile!"
"Both young men at both windows were kind courteous and respectful. The speed at which the fulfilled my order was outstanding and the entire crew did a great job."
"She is so polite and friendly. She always smiling. Thank you for making my day."
"She did an awesome job was very friendly & helpful even though they were super busy she made sure I had everything I needed will be returning to this Burger King!"
"The cashier in drive thru this morning was so friendly! She explained the impossible meat to me. She didn't rush me she made me feel welcome. I hope I get to visit with her again! She made a forever customer!"
"He made me feel like I was the best thing in the world Smiling behind hot masks, friendly eyes. hot food and coffee, fast service. I love it!"

Employee Awards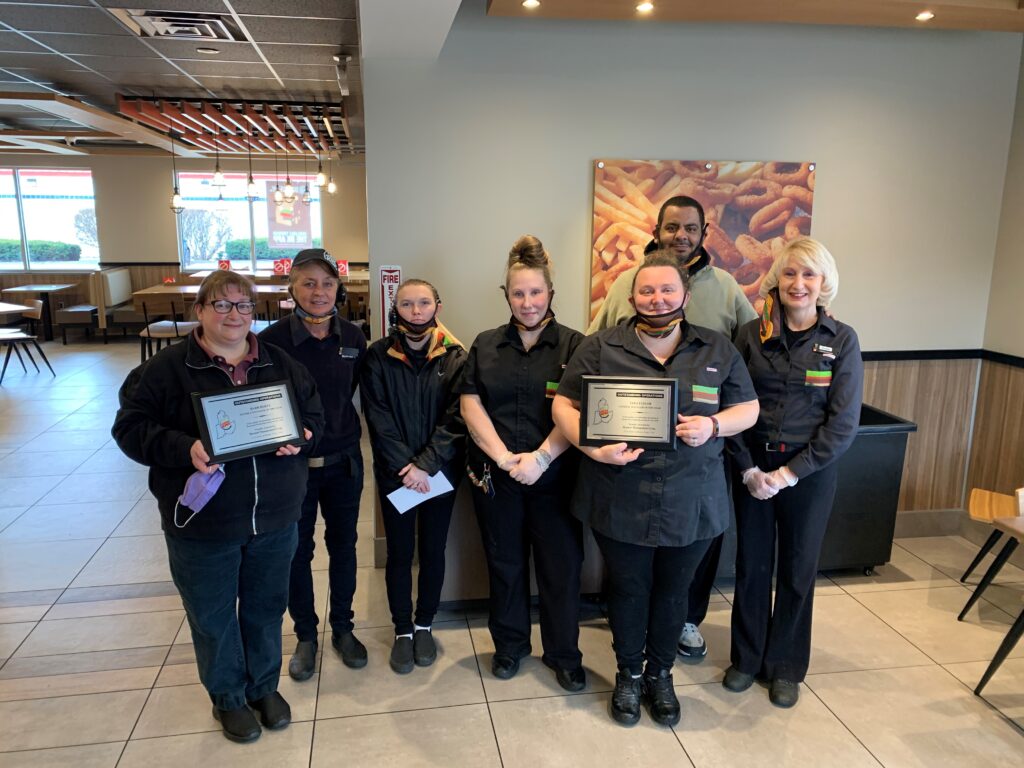 We applaud these men and women for their achievements on the job whether it is in the area of customer service, training, guest relations, cleanliness or carrying out the C.A.R.E. principles of Connect, Appreciate, Respect Everyone.
Thank you for setting such great examples!
We welcome neighbors and friends to stop by with congratulations.
Come work with people who recognize your hard work.
Scholarship Winners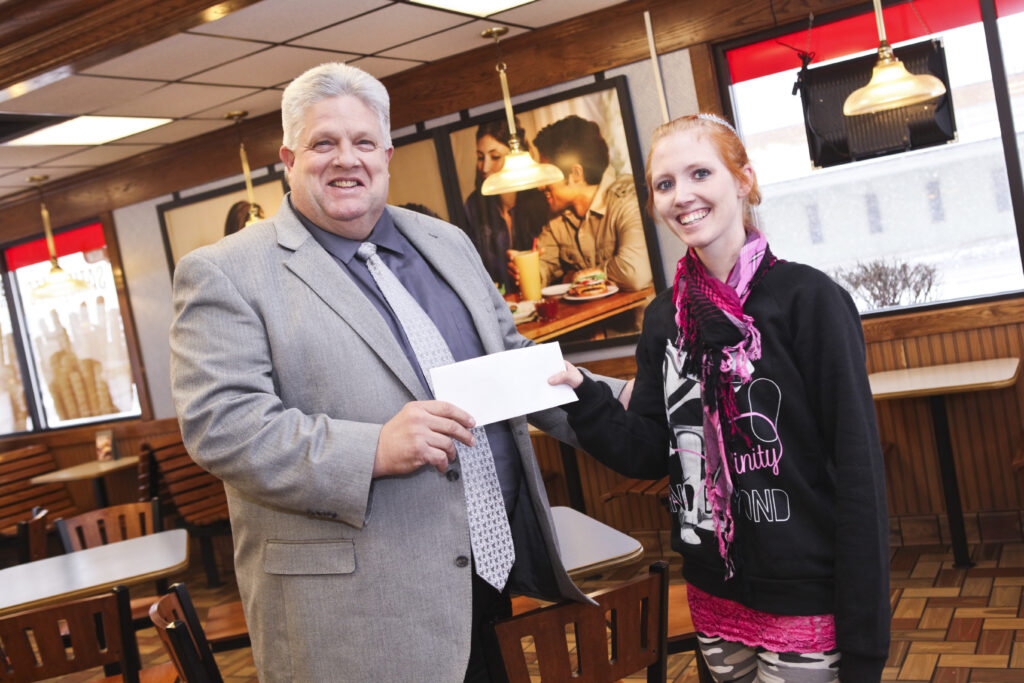 Each year Bennett Management Corp. awards a Robert G. Bennett Educational Scholarship to a college-bound employee whose application is chosen by Scholarship America to be representative of the values and high standards of Bennett Management.
We're delighted to also offer additional scholarships to our employees and their families – both in the restaurants and in the office chosen by Scholarship America.
Congratulations to these hard-working students for their achievements. We are so proud of you!